The Certified Crop Adviser (CCA) and Certified Professional Agronomist (CPAg) programs of the American Society of Agronomy are the benchmarks of professionalism.  The CCA certification was established in 1992 to provide a benchmark for practicing agronomy professionals in the United States and Canada.
Who should be certified?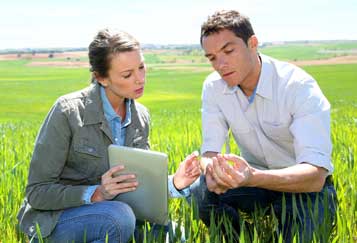 Any adviser/consultant that spends the majority of their time advising growers or farm managers/operators on agronomic practices and can meet the standards of the program.
 
Certification is the standard by which professionals are judged. The purpose of a certification program is to protect the public and the profession. It is a voluntary professional enhancement to a person's career credentials. Farmers and employers prefer to work with Certified Crop Advisers (CCA) because CCAs have demonstrated they have the commitment, education, expertise, and experience to make a difference in a client's business.
Explore the three certifications that the American Society of Agronomy (ASA) and the Soil Science Society of America have to offer and choose the one that fits your career path:
Certified Crop Adviser
Certified Professional Agronomist
Certified Professional Soil Scientist/Classifier
Certified Soil Technician